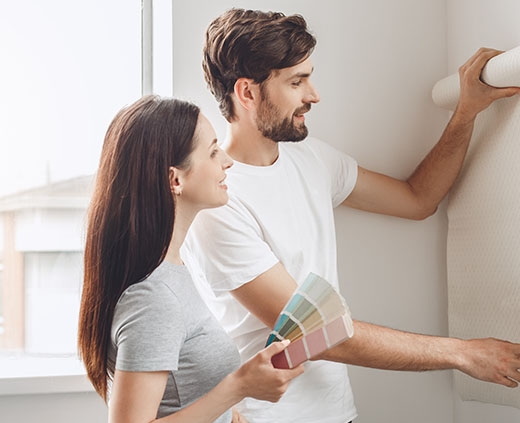 Alternative Wall Coverings for Your Apartment
When you rent an apartment you want to make it your own. It might be your first place that is truly your own, so you want to put your personal stamp on it. Unfortunately, many times landlords have limitations on what you can put on the walls. Some may not allow nail holes to hang artwork or photos, while others may not allow you to paint the walls. There are other options, however. Here are some ideas for alternative wall coverings that can help you truly make your new apartment your own.
Temporary Wallpaper
It can be tricky to put up smoothly, but there are types of wallpaper that are considered strippable or peelable. This is specifically designed to be removed easily with an adhesive that holds it on the wall, but is not very strong. This type of wallpaper can easily be found at moge large hardware stores.
Peel and Stick Tiles
Want to create your own backsplash in the bathroom or kitchen? You can now cover up an existing backsplash with temporary peel-and-stick tiles. They can be removed easily with no residue and be cut to fit your specific space.
Wall Decals
Companies like Fathead have made a name for themselves lately by producing officially licensed large wall decals. You can get life-sized decals of your favorite sports logos or players, licensed characters from your favorite film size, and more.
Fabric or Curtains
There are a couple of options you can use here. You can stretch your fabric tightly over the wall, then secure it using thumbtacks or small nails, or you can buy inexpensive foam boards that are as tall as your walls, cover them with fabric, then attach the boards to the wall. Curtains may seem a bit odd, but with an ordinary curtain rod you can hang any number of good looking fabrics from ceiling to floor.
Decorative Tape
In recent years there have been hundreds of different designs developed for decorative tape. It comes in several colors and styles and you can make any design you wish. Decorative tape goes on like masking tape and can therefore be easily removed when it comes time for you to move. You can even get creative and use wrapping paper to create larger, more complex designs. Just be forewarned that it may be very fragile.
These are just a few of your options for ways to decorate your walls that won't leave any damage with alternative wall coverings. You also don't have to worry about repainting when it comes time to move.
http://apartmentsindianapolis.com/wp-content/uploads/2019/06/Walls.jpg
520
520
Apartments Indianapolis
http://apartmentsindianapolis.com/wp-content/uploads/2018/01/Logo.png
Apartments Indianapolis
2019-06-11 09:00:47
2019-06-10 14:48:42
Alternative Wall Coverings for Your Apartment