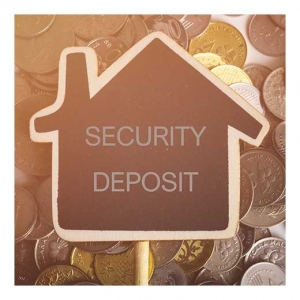 A security deposit is just part of life when it comes to renting. It is a way to make sure that the apartment building or landlord has funds set aside for necessary maintenance and repairs once a tenant moves out. Some landlords are generous with them and will let things slide for long time tenants, while others can be strict. There is no universal list of what can go against a security deposit and what does not, but speaking with your leasing agent during the process will help give you a better idea. What follows is some of the more common things that can go against a security deposit.
Legally, What can be Deducted
AS mentioned above, there is no definitive list on what can be taken from a security deposit and what can't. Most landlords want to refund a full deposit because it means there is no damage or extra cleaning. Fixing up an apartment after a tenant leaves not only costs money, it takes time. That time lost is time that the landlord does not have someone renting the space, so it is money lost for them. As long as you leave the apartment in good condition when you leave most landlords will return your full deposit. They understand that general wear and tear is just part of the process.
Renters are responsible for any damage that is out of the ordinary. You can't leave cigarette burns in the carpet or huge holes in the wall. If you have a pet stained rugs will often mean part of the security deposit won't be returned. There are often local statutes on what constitutes normal wear and tear, so check your local regulations.
Follow the Lease
You may have to go digging through all of the legalese, but more of the time terms for the security deposit will be included in the lease itself. Property managers will state their exact terms and expectations within the lease. That is part of their job. They can charge for any work that is needed to make the property look exactly as it was before you moved in. A common area here is painting. Some landlords won't let you paint at all. Others might let you paint as long as you restore it to the previous color before leaving.
What to Do When Moving Out
There are a few things you can do to help the process of returning your deposit when you move out. First, give plenty of notice. Generally, you should give 30-60 days, which gives the landlord plenty of time to prepare the unit and get it back on the market. You can have them do a pre-move out inspection so they can identify areas that you can take care of yourself before they have to. Finally, make sure you give the unit a good cleaning.
Landlords definitely want to work with you even as you are leaving. If you return a unit in good condition it gets it back on the market faster for them. With a little work your separation can be mutual.